The 4 Surprising Benefits of Installing A Heat Pump
We know what you're thinking — why is Bryan's Fuel telling us about heat pumps when it's finally getting hot in Southwestern Ontario?
Don't let the name mislead you! Air source heat pumps (ASHPs) not only provide heat in the winter but also cool your home in the summer, offering a year-round comfort solution.
There are a number of other surprising benefits that come with installing a heat pump in your home. Here are the top 4 you should consider this summer.
1. Environmentally Sustainable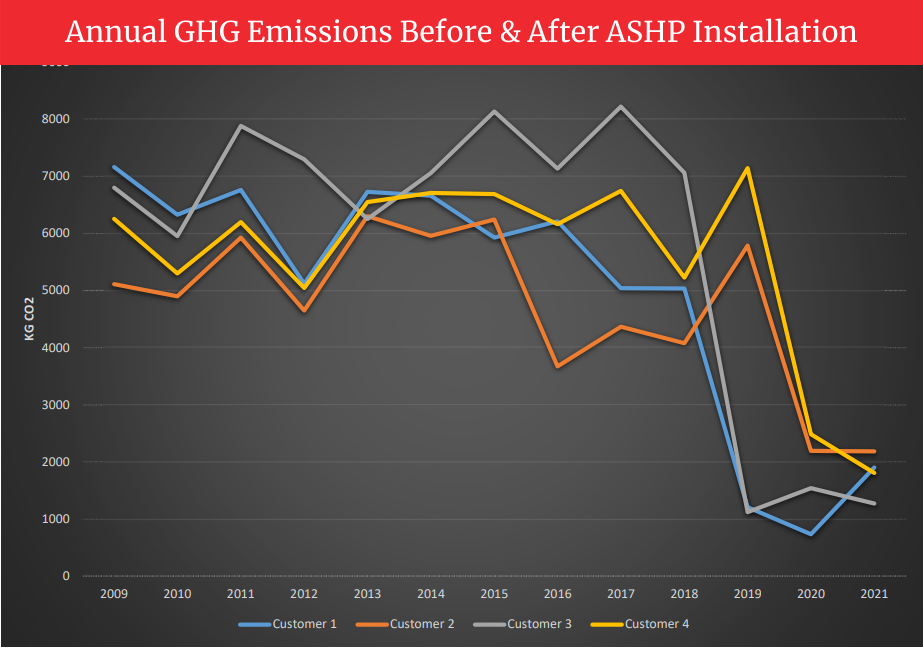 Heat pumps don't use fossil fuels to heat or cool your home. As a result, they reduce greenhouse gas (GHG) emissions that are harmful to the environment.
To demonstrate this, we monitored the greenhouse gas emissions produced by four Bryan's Fuel clients who agreed to take part in a study. Between 2018 and 2019, a heat pump was installed in these clients' homes to complement their existing HVAC equipment. As you can see in the graph above, each client experienced a drastic reduction in their carbon emissions — some as much as 85%!
Installing a heat pump can also help your home qualify for a government incentive. To learn more, visit the Canada Greener Homes Grant page.
2. Increased Efficiency & Lower Costs
A heat pump is much more efficient than your standard heating systems, even when used to supplement your furnace and air conditioner. This makes it a great choice if you want to save money. In fact, it can reduce your fuel heating costs by as much as 40%!
Bonus: There are also heat pump options for your domestic hot water. This could reduce your water heating bills by 25% to 50%. Ask us about the heat pump options we carry and their capabilities.
3. Reliability & Durability
Heat pumps have an average lifespan of 20 years when maintained properly, making them no fuss and no muss! They are easy to operate and one of the most convenient systems out there. They do require yearly maintenance, which is included in our annual maintenance package.
4. Safety & Health Benefits
A heat pump helps to improve indoor air quality by filtering the air and dehumidifying your environment. This can help reduce air pollutants, condensation, and mould in your home.
In addition, heat pumps are electric and have no combustion process, thereby reducing the risk of a carbon monoxide leak in your home. This makes them a safer, healthier alternative to other heating and cooling systems.
At Bryan's Fuel, we are a 98-year-old company that is always looking to the future. We plan to be around for at least the next 98 years and that's why we always advocate for cleaner and more sustainable solutions, such as air source heat pumps. Contact us today to learn more about installing a heat pump in your home.