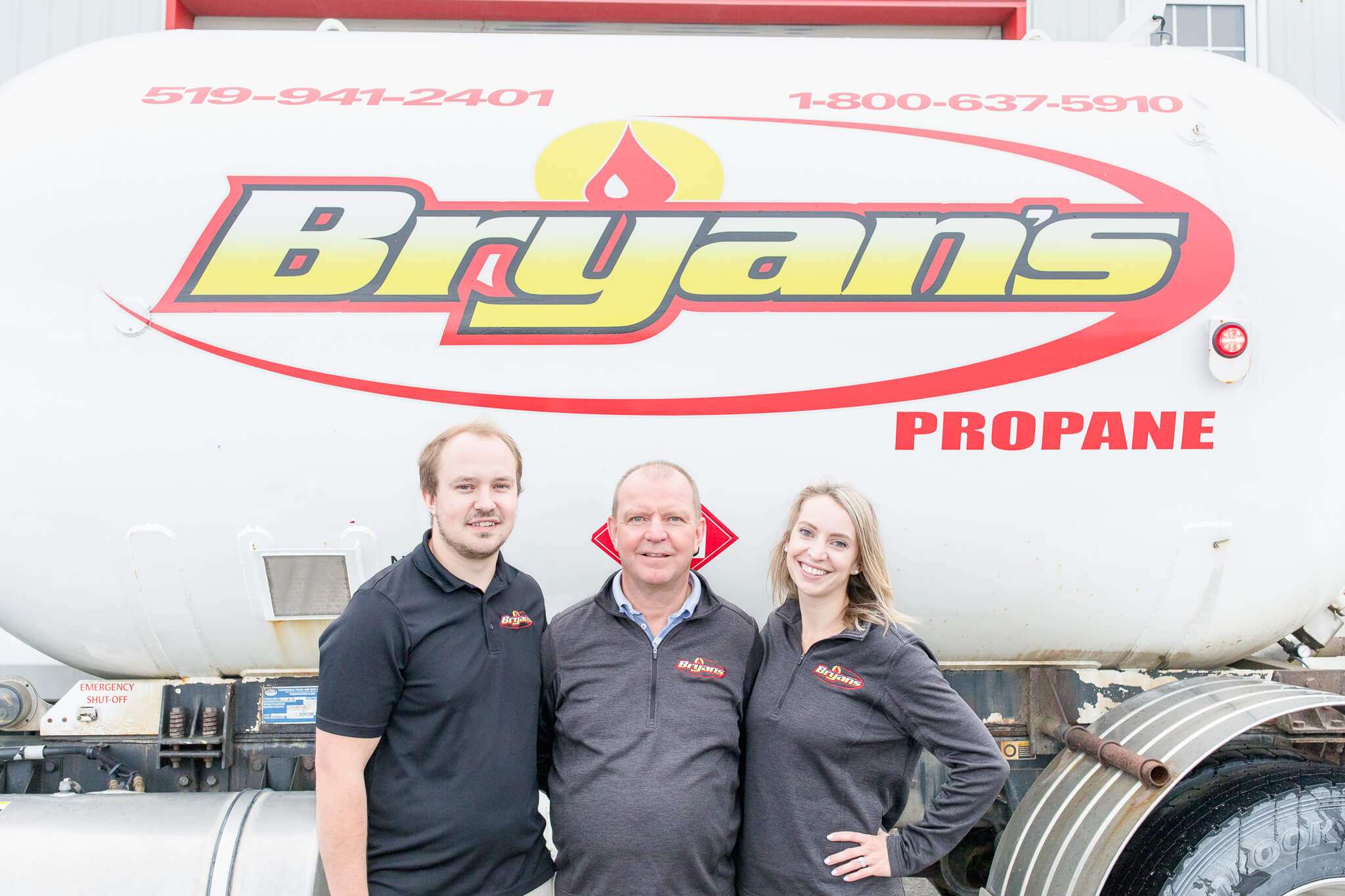 Our Mission
At Bryan's Fuel, it's our mission to be the preferred provider of home heating and comfort products in the central Ontario region. By being sensitive and responsive to the needs of our customers, colleagues and the public, we hope to be accountable and provide value to the communities in which we live and work. It is essential to our success that our team is committed to the principles of:
Providing quality products and services
Fairness and integrity in all relationships
Community involvement and promotion
Bryan's Fuel History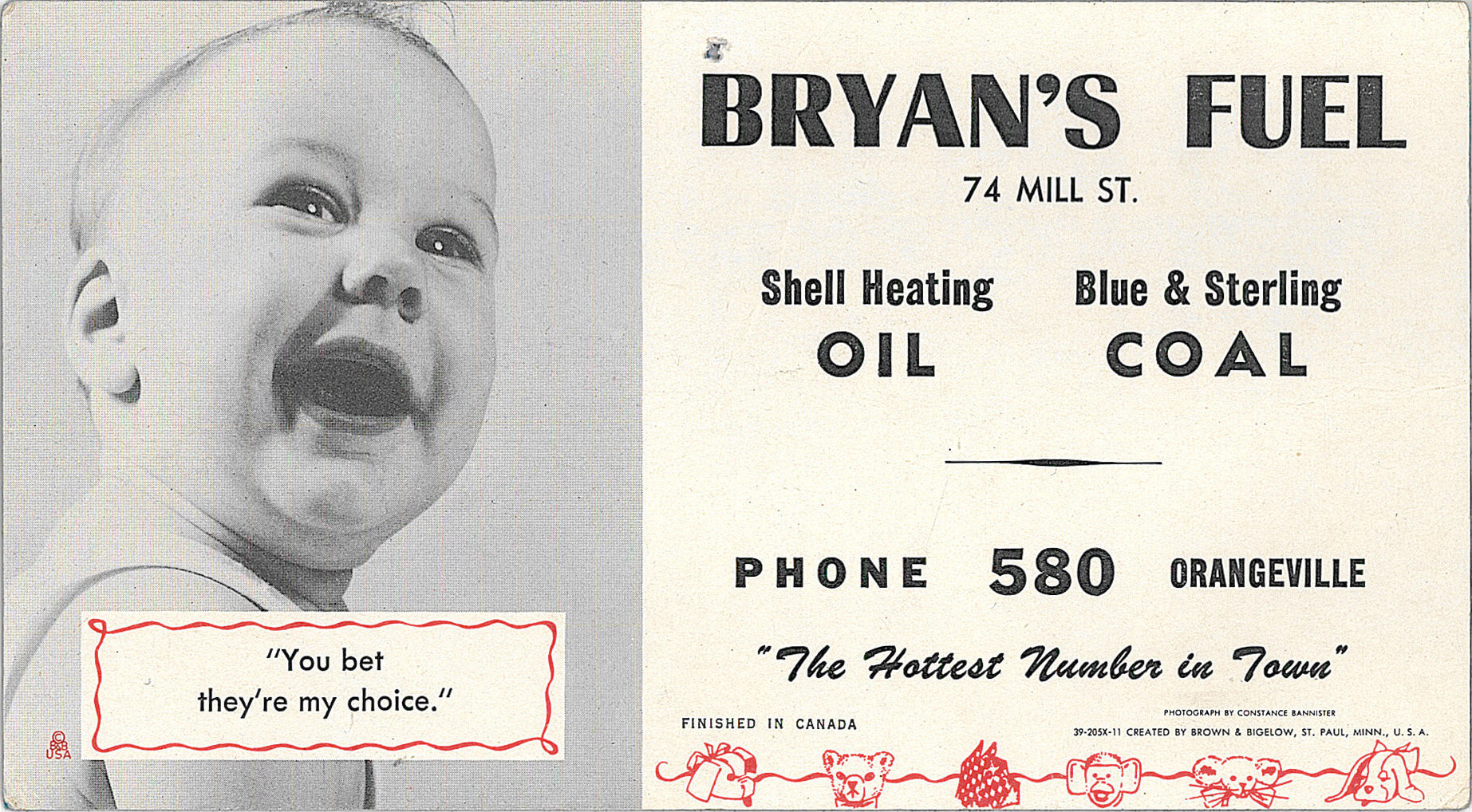 In 1924, Roy D. Bryan, an Amaranth farmer, purchased a livery stable and blacksmith shop at what is now the location of the Leaders Building in Orangeville. From this location Roy initiated an automotive dealership and garage selling Star & Durant, Essex and Hudson cars, Rugby trucks and B A Gasoline.
In 1929 Roy was joined by his younger brother Wilson and the business was expanded to include the buying and selling of hay and grain. In those days, a steam hay press did bailing and at their peak Bryan's had four such press gangs operating across Southwestern Ontario. Contracts with dairies and bakeries (both of which used horse drawn wagons for door to door delivery) and the Toronto Stockyards kept a steady stream of Bryan's trucks flowing to Toronto.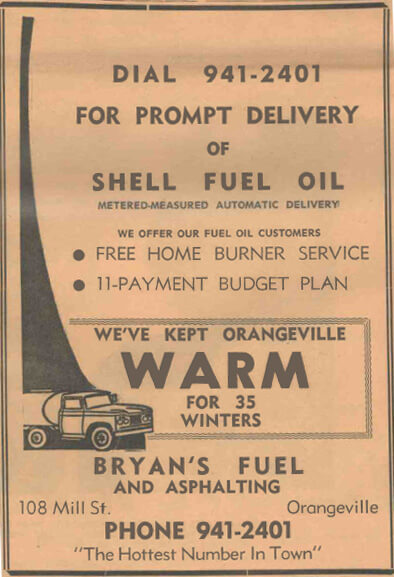 In an effort to make a two-way paying trip, Bryan's entered the coal business in the thirties. At that time coal was the predominate method of heating and sold for $10-12 per ton. Bryan's Fuel remained in the coal business with several yards around Orangeville until the mid-1970s.
The garage business suffered a major setback when the building was completely destroyed by a spectacular fire on Christmas Day, 1934. The Bryan family, who lived in the apartment over the garage, were also homeless. Rather than give up, Roy and Wilson rebuilt and expanded with a new garage.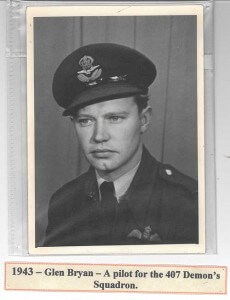 After six years as a bomber pilot in the Royal Canadian Air Force (RCAF) and obtaining a diploma in Business Administration from the University of Toronto, Roy's son Glen returned to Orangeville and joined the family business. The post-war boom was a good time for automobile sales, cars were readily available again, and people had money to spend.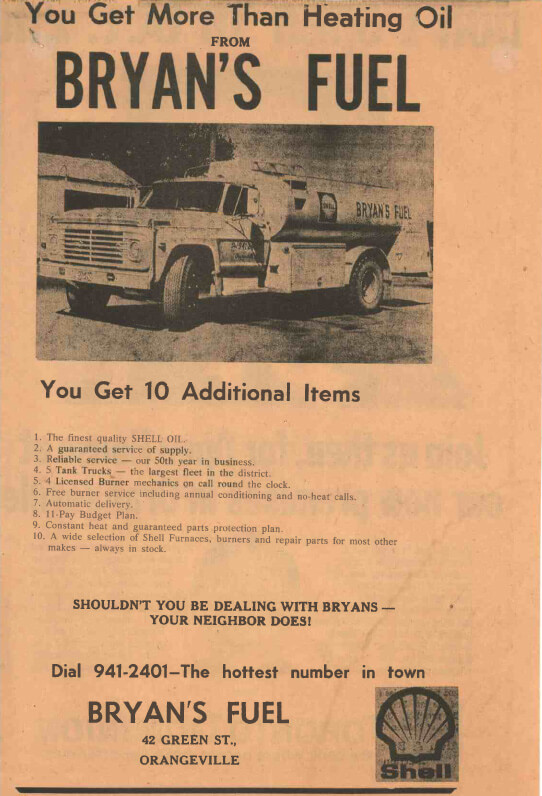 The mid-1950s saw the start of another new housing boom in Orangeville. At that time, Glen saw the opportunity to go into the home heating oil business.
"In 1956, I bought a used oil truck with an 800 gallon tank from Milnes Fuel in Toronto. My first customer was Keith Hunter who wanted the tank filled at his new home on Elizabeth Street. The tank truck wasn't ready, so we delivered the oil in pails."
– Glen Bryan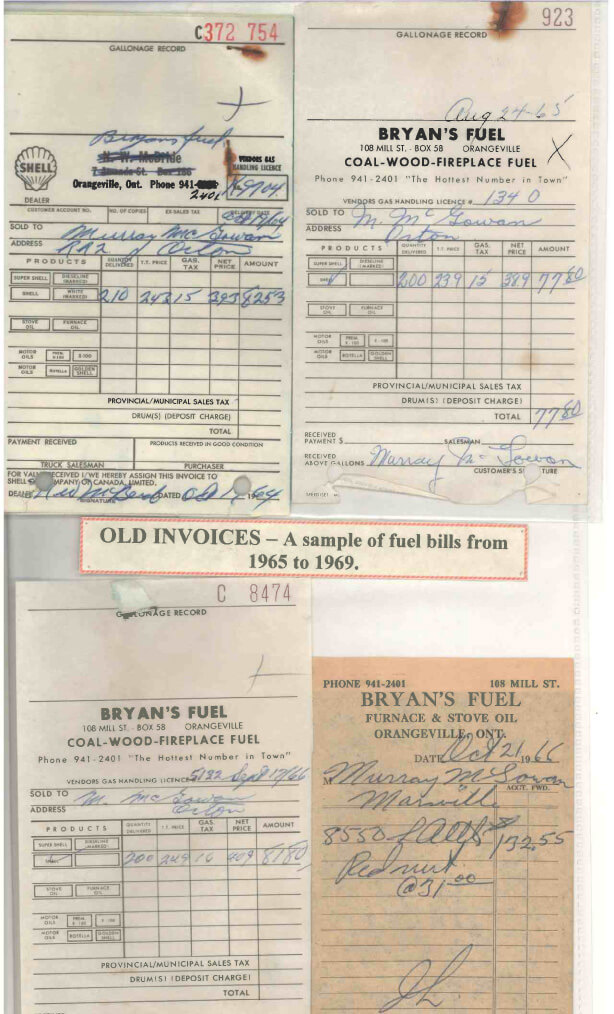 Oil was the start of a successful new business. The Bryan's Garage was sold and the fuel business relocated to 108 Mill Street, where it was operated from a small office near the old grain elevator on site. In 1966 the business moved to 42 Green Street.
In the 1960s, third party contractors performed almost all heating service and installation work. In order to provide a superior service, Bryan's Fuel began to offer service and installation. Although a modest beginning, the heating, ventilation and air conditioning business has grown to be a significant portion of the total operation.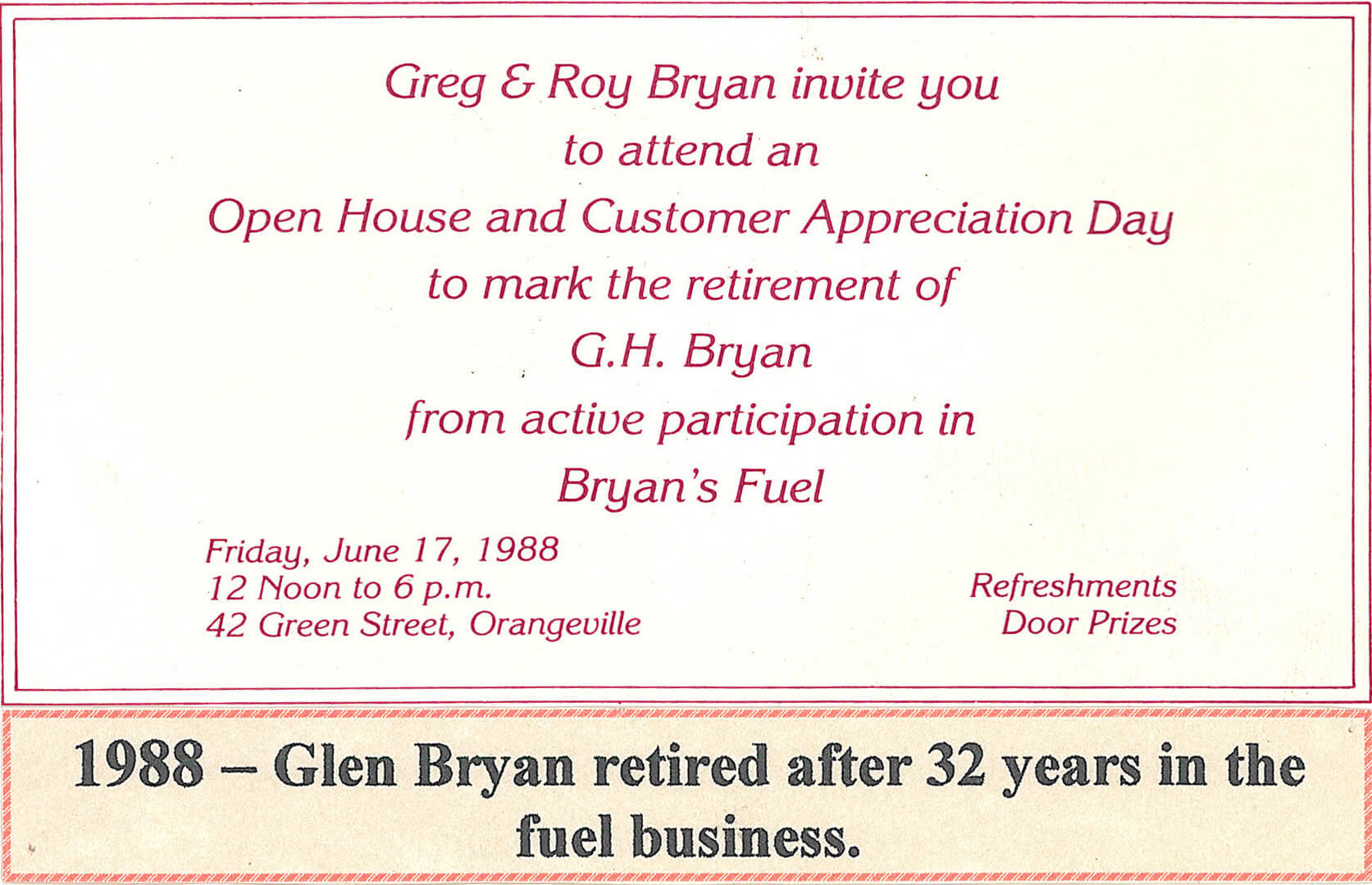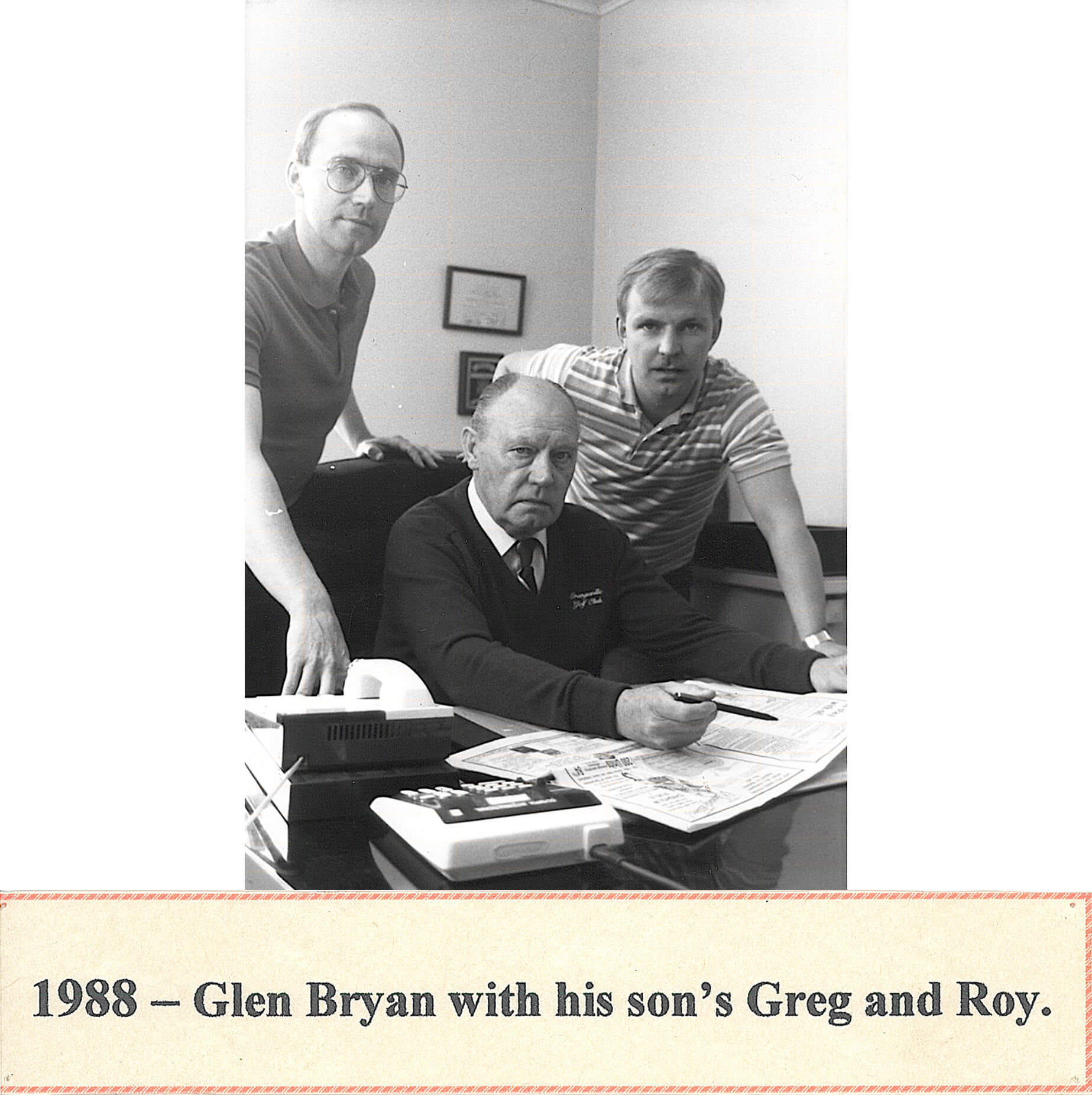 In 1988, Greg and Roy Bryan purchased Bryan's Fuel from their father Glen, and ten years later moved to their present location at 400 Richardson Road, on the corner of C Line.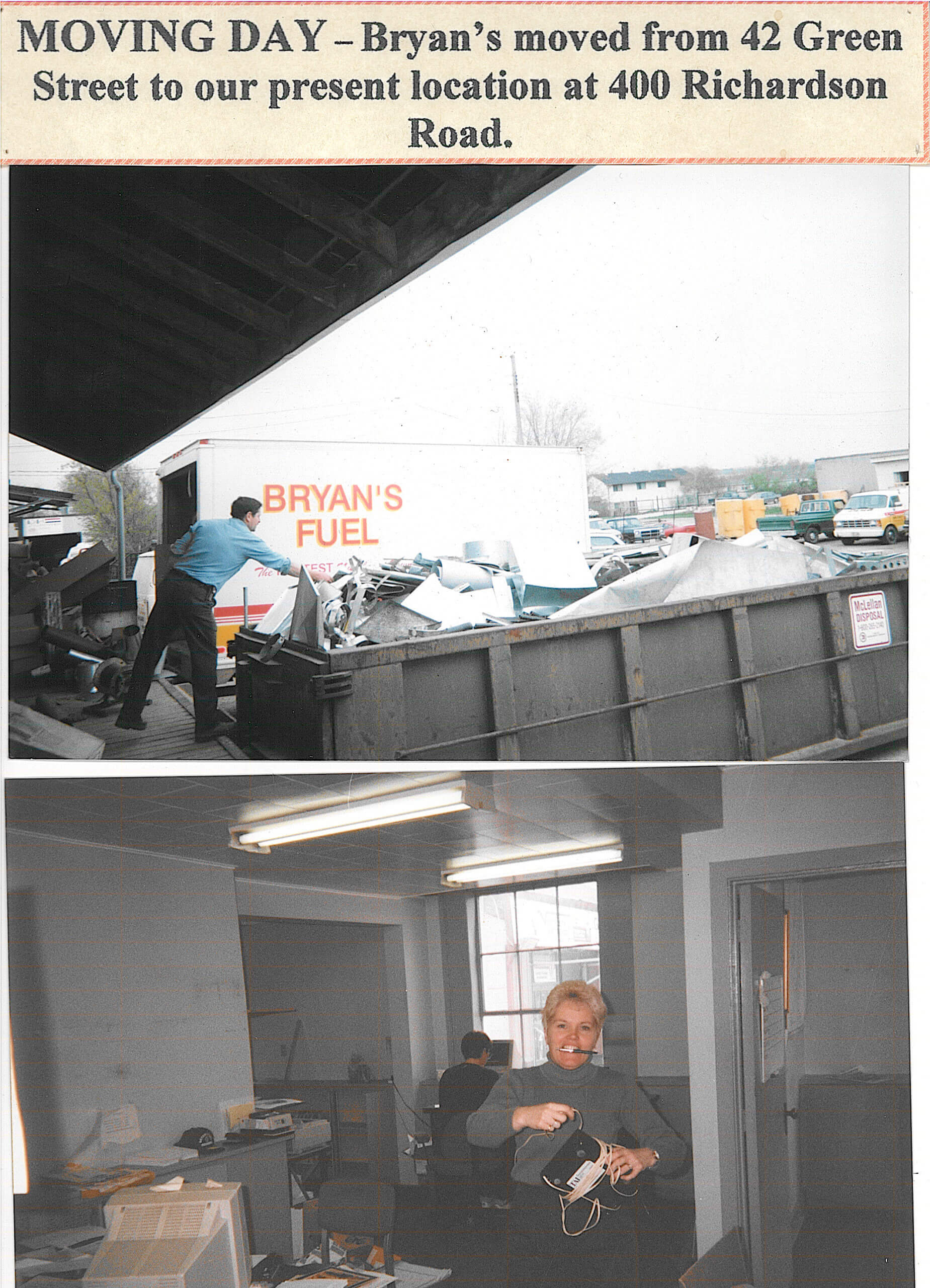 The year 1999 marked a very special date for Bryan's Fuel as they celebrated 75 years of supplying quality products and services to Orangeville and the surrounding communities. One year later, Bryan's Fuel diversified their product offering by introducing propane and equipment. To date, that venture has grown to become an integral part of Bryan's Fuel.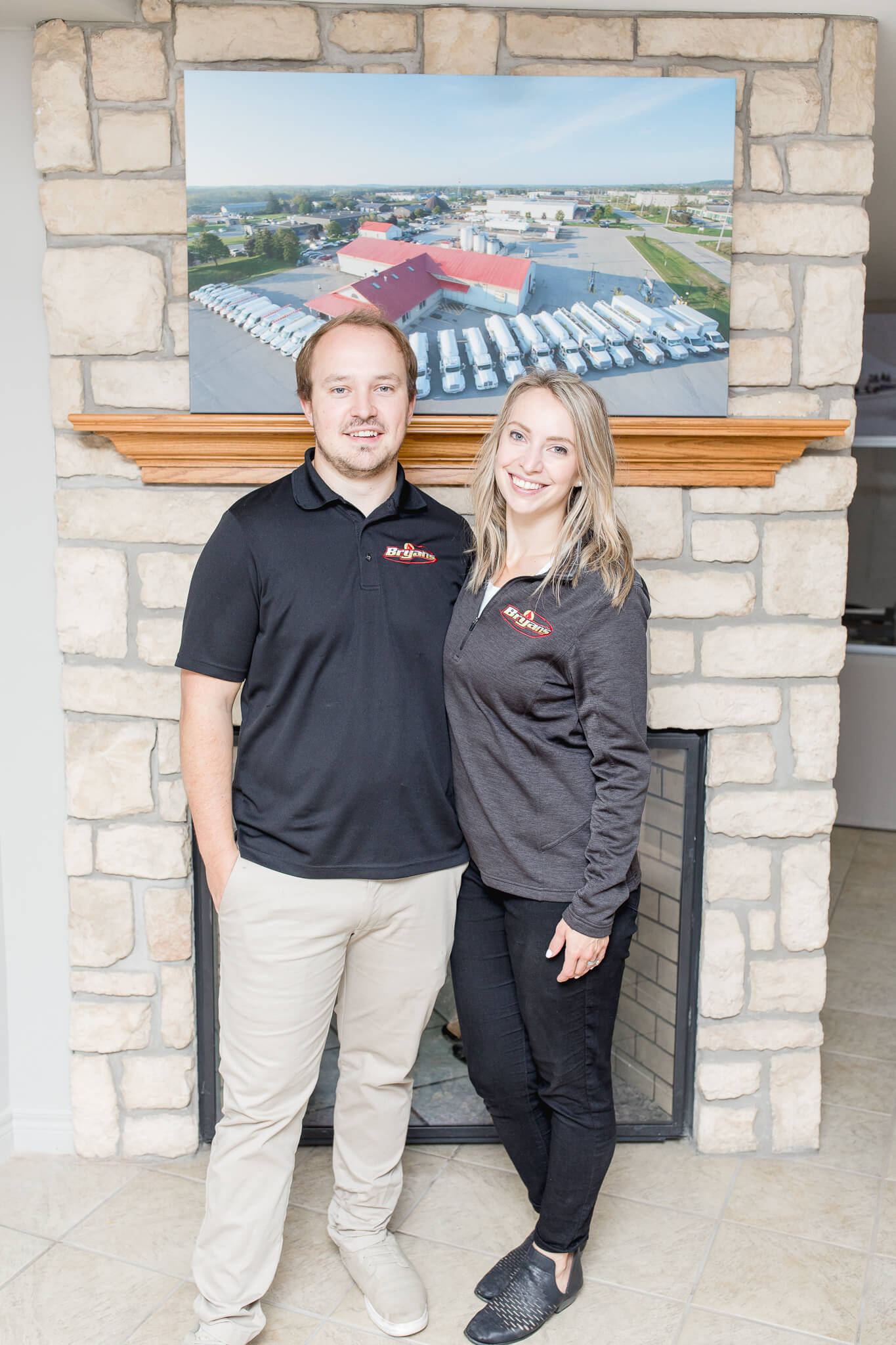 In 2007, Greg retired and Roy carried on the family tradition. Since 2007, Bryan's Fuel has continued to grow as they service customers in Orangeville and beyond. In 2014, Roy's son Graham joined the team as Service Manager and is currently the Sales Manager. Laura joined her Father and Brother in 2018 as the Marketing Manager. Graham and Laura are  proud to be the 4th generation of Bryan's to carry on the family business.