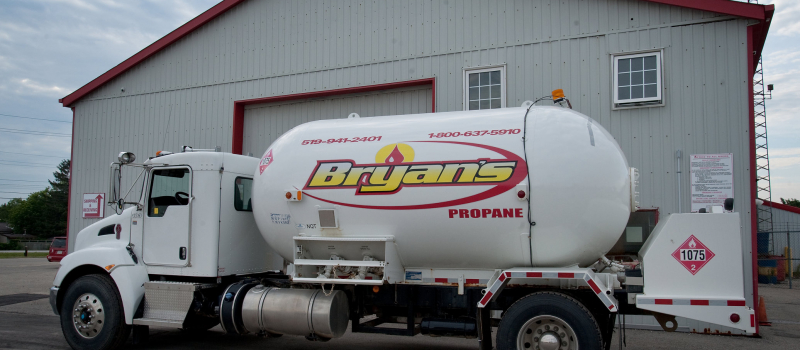 Do you require regular propane delivery for your home or business? At Bryan's Fuel, we work with homeowners, farmers, and business owners to provide them with the propane to heat their property, power generators, crop dryers, and more.
Our team provides reliable propane delivery services across Central Ontario to ensure that you have complete peace of mind. We also offer a propane fixed price program to keep costs consistent during the heating season.
Want to find out how much your propane delivery will cost? Our team provides our customers with complete transparency on propane pricing. Our current pricing is updated daily and can be accessed online.
Our Propane Delivery Options
At Bryan's Fuel, we offer two options for propane fuel delivery. We typically recommend auto delivery as the standard option, as this method of delivery provides the best value for our customers.
Automatic Delivery
Automatic Delivery ensures that your home or business receives regular propane deliveries as you require them, to provide you with peace of mind throughout the year.
When you choose Automatic Delivery, you will be put into a worry-free degree day system that predicts when your tank level is between 20-30%. Our team will schedule regular deliveries based on your typical usage patterns to ensure that you never run out of propane.
Automatic Delivery is the perfect solution for homeowners that require propane for heat in their primary residence or business owners that require propane for essential business operations.
Will Call Delivery
Will Call Delivery requires customers to manage their own propane needs, keep an eye on their tank levels, and request deliveries as required.
If you choose Will Call Delivery, you will need to schedule deliveries by calling or emailing our team. Our team will advise you how to read your fuel levels so you can place your call at an appropriate time to ensure you always have fuel available. We can provide further information about average delivery times for your area.
This option is typically only advisable for customers that have irregular propane needs and want to request delivery on an ad hoc basis.
Our Propane Fuel Services
Learn more about propane tank pricing and other additional services, including propane tank installations and tank monitoring below.
We offer the option to rent propane tanks on an annual basis or purchase tanks outright at the time of your installation.
Our team provides professional propane tank installation services in Central Ontario, including an initial inspection.
Propane tank monitors use satellite technology to ensure that you never run out of propane for your home or business.
The Benefits of Propane
Propane gas is a clean, convenient, and reliable method of heating for residential, agricultural, and commercial buildings. As a fuel, propane offers a clean, economical, and portable alternative to other fuel sources. Propane can also be used for stovetop cooking, hot water heating, clothes drying, and barbecuing.
Propane Fixed Price Program
Our Propane Fixed Price Program takes the uncertainty out of propane prices and ensures that you always know what your next propane delivery will cost.
Propane prices fluctuate up and down throughout the year. Market demands for propane tend to increase in the winter as homeowners require additional propane to heat their homes, resulting in higher overall prices.
At Bryan's Fuel, our strong relationships with propane producers allow us to purchase large quantities of propane during the summer, and offer it to our clients during the fall and winter seasons at a fixed price.
Federal Carbon Tax on Propane
On April 1, 2019 the Federal Government through its Greenhouse Gas Pollution Pricing Act (GGPPA) introduced a carbon tax on all fuel consumed in the Province of Ontario. The Federal Carbon Tax will be charged on all propane by Bryan's Fuel.
The rates are determined by the Government of Canada and are set annually on April 1st, currently the rates on all propane is 3.10 cents per litre, rising to 7.74 cents by 2022.
For more information, or to read the Greenhouse Gas Pollution Pricing Act, please visit the Government of Canada website.