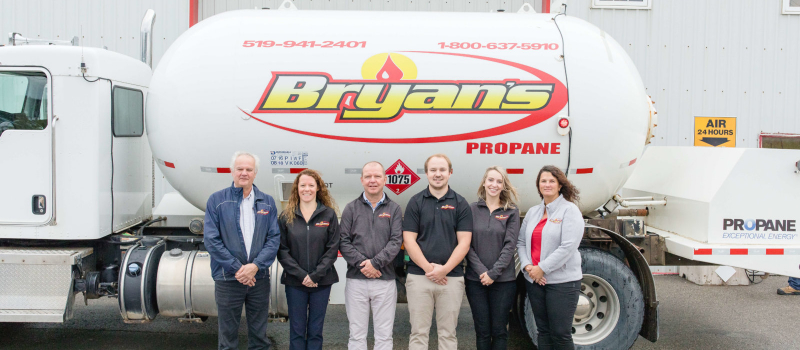 Management Team
Meet the people behind our tradition.
Roy Bryan, P. Eng. – President
Roy joined Bryan's Fuel in 1988 from Northern Telecom. He learned the family business from the ground up, becoming President in 2005. He is responsible for the strategic direction of the company. Roy is a Registered Professional Engineer in the Province of Ontario and holds a bachelor of Engineering and Management from McMaster University and an MBA from York University.
Roy is a former Chairman of the Canadian Oil Heat Association, former President of the Orangeville Lions Club and former Chairman of Headwater Health Care Foundation.
Graham Bryan – Sales Manager
Graham joined the company in 2014 after finishing his degree in Business Administration from Acadia University. Graham grew up with the company, giving him the unique opportunity to experience every aspect of the business. He brings this holistic view of Bryan's Fuel with him as he works as the team's Service Manager.
Laura Bryan Kirk – Marketing Manager
In 2018, Laura proudly joined her Father and Brother in the family business and is excited to be part of the 4th generation to carry on the Bryan Family mission of providing quality products and service to the community. Laura is a graduate from both Acadia University and George Brown College and previously worked in the marketing and event industries.
Adrian Bita, CPA, CGA, CFE – Director of Finance
Adrian recently joined the company after more than 10 years in the Engineering industry. Adrian is a Chartered Professional Accountant and Certified Fraud Examiner, with over 20 years experience in all aspects of Accounting and Finance. A graduate of Seneca College and Laurentian University, Adrian is very actively involved in the community. He is a member (and past President) of Rotary Club of Orangeville Highlands, a member of the Board of Directors of Headwaters Health Care Centre, and over the years he was involved with Orangeville Blues & Jazz Festival, Dufferin Community Foundation, Orangeville Food Bank, Family Transition Place, Community Living Dufferin, to name just a few.
Cheryl Epps – Customer Service Manager
Cheryl joined the company in 2007 and plays a pivotal leadership role within Bryan's Fuel. She started out as the Service Manager and later expanded her responsibilities to include sales and customer service. With 20 years in the HVAC industry, Cheryl brings technical knowledge and professionalism to the job.
Mike Kuranyi – Installation Operations Manager
Mike trained as an oil burning technician and gas installer at Georgian College and shortly after started in the HVAC business in 1979. After owning an independent oil burning company for a number of years, Mike was hired by Glen Bryan to work at Bryan's Fuel in 1984. As an HVAC technician, Mike completed numerous certifications and courses and was promoted to Installation Operations Manager in 2016. With 40 years of HVAC industry experience there is almost no problem he hasn't seen or can't tackle.
Lorraine Mulliss – Fuels Manager
Lorraine has been a proud member of the Bryan's Fuel Family since 2000. She gained comprehensive knowledge of the company after holding a variety of positions, which ultimately lead her to be promoted to Fuels Operation Manager in 2014. Her dedication and commitment has made her a strong leader to the team of fuel dispatchers and drivers and a pivotal member of the Management Committee.
Join Us
We are constantly on the lookout for potential team members who have what it takes to carry on Bryan's tradition of top quality customer oriented professionals. As an employer we strive to treat our employees fairly and with respect, which has resulted in a motivated and dedicated staff who are committed to giving their best, day in and day out.
To join our team, please email your resume to jobs@bryansfuel.on.ca