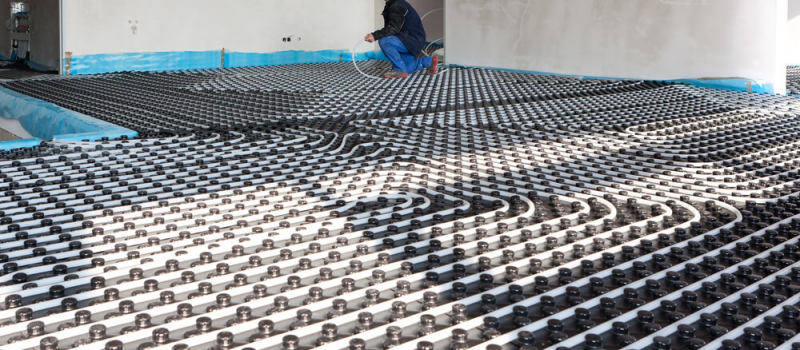 Suffering from cold toes during the winter? Hydronic radiant floor heating provides a total comfort solution for your home.
At Bryan's Fuel, we specialize in the installation of in-floor and radiator heating systems for homes, also known as 'radiant heating systems'. With in-floor heating, your entire floor becomes one large surface that constantly radiates warmth — completely heated floors!
'Hydronic' means that the system produces warmth by running hot water through loops of flexible plastic tubing under your floor or to your radiators. Hydronic heating can be used for many home heating needs, including swimming pools, fan coils, and even driveway or walkway snow melting.
Talk to the team at Bryan's Fuel to learn more. We would be happy to provide a no obligation quote for the installation of a hydronic heating system.
Why Choose Radiant Heat?
Radiant heat takes a new and energy-efficient approach to heating your home. Instead of the "ceiling down" method associated with forced air heating systems, the underfloor heating system produces a "floor up" heat distribution that creates consistent room temperatures. You and your family will feel more comfortable — and you won't waste your energy keeping the ceiling warm.
When choosing between underfloor heating systems, there are two main alternatives: hydronic and electric floor heating. At Bryan's Fuel, we always recommend using hydronic heating, which provides the more energy efficient option.
Our Hydronic Heating Systems
Hydronic systems are a very efficient way of heating your home, providing an optimum and even delivery of heat to your living space. Individual room heating control can be provided by zoning allowing you precise control over temperature throughout your home. These heating systems can also be installed outdoors for melting snow on driveways or walkways.
Each of our comfort advisors are qualified in Hydronic Design. They are trained and certified to design and install a wide variety of systems, from a small garage expansion to 10,000 square foot homes with hybrid home comfort systems.
Radiant Baseboard Heating
In addition to our in-floor heating, Bryan's Fuel also offers radiant baseboard heating systems. The Slant/Fin hot water system is a deal choice for comfortable, cost-efficient heating. It can be installed quickly, without costly ductwork and the related mess. The low profile baseboard will give you more wall space and freedom to locate furniture and drapes near, or even touching, the baseboard.
Hydronic Radiant Floor Heating – Pricing Resources