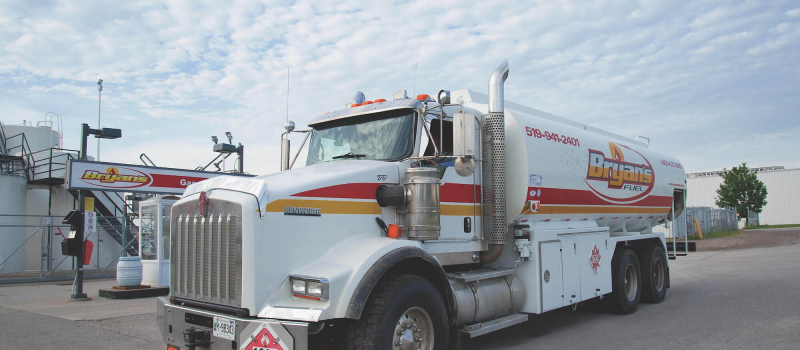 Looking for a reliable fuel supplier in the Collingwood area?
From Creemore to Wasaga Beach and the Blue Mountains to Georgian Bay, Bryan's Fuel offers fuel supply services to homeowners and business owners in Collingwood and the surrounding communities. Our team's mission is to provide reliable, efficient fuel supply services that will improve your comfort and support your operations.
We provide a range of fuels to a variety of commercial and industrial businesses that depend on us for timely delivery and service. Find out how we can supply your home, cottage, farm, or business with fuel delivery.
Our Fuel Supply Services in Collingwood
At Bryan's Fuel, we offer a wide range of fuels including propane, gasoline, diesel, and oil, as well as lubricants for farms, commercial, and residential use.
From new tank installation and monitoring to automated deliveries, our team is here to ensure that you have a complete fuel supply solution for your needs. Select an option below to learn more about our services:
Our Bulk Fuel Delivery Options
Bryan's Fuel can provide bulk fuel delivery to your home or business in Collingwood and the surrounding area. Our team can supply the following:
We will recommend the size and number of tanks for fuel storage, based on your usage and other factors. This will ensure you receive efficient deliveries and always have an available supply of fuel that you need
We are committed to offering competitive pricing, based on the wholesale cost for Bryan's Fuel. Ask our team for details.
Propane Fixed Price Program
Our Propane Fixed Price Program takes the uncertainty out of propane prices and ensures that you always know what your next propane fuel delivery will cost.
Propane prices fluctuate up and down throughout the year. Market demands for propane tend to increase in the winter as homeowners require additional propane to heat their homes, resulting in higher overall prices.
At Bryan's Fuel, our strong relationships with propane producers allow us to purchase large quantities of propane during the summer, and offer it to our clients during the fall and winter seasons at a fixed price.