Propane For Rural Living: Homes & Cottages
Are you thinking about switching your home heating to propane? Have you recently converted to propane for your home, and are now wondering if propane heat will work for your cottage? Propane is a versatile and highly efficient fuel source that can be an excellent option for those living in rural areas. Keep reading to see how propane could be the right option for your property.
Why Choose Propane for Rural Energy Needs?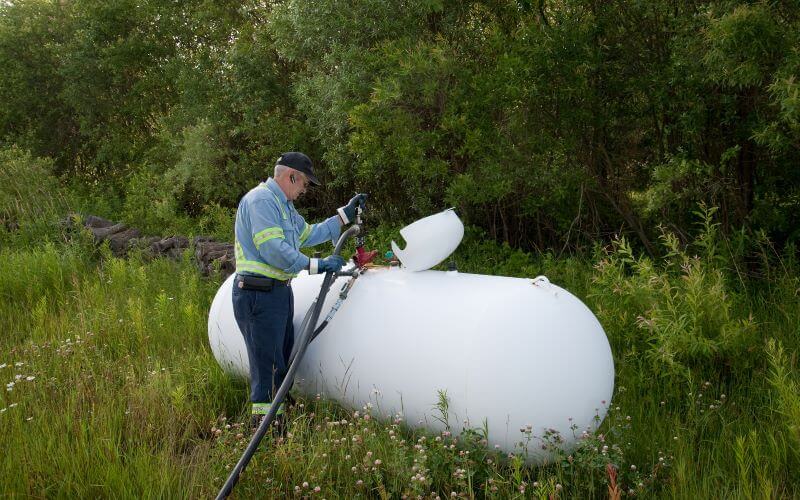 When it comes to energy needs for rural homes, propane is a top choice for three reasons:
It's especially suitable for homes that aren't connected to natural gas pipelines, which can be difficult and expensive to extend to remote areas.
Propane is highly versatile, offering various applications such as heating homes and water, and fueling fireplaces, barbecues, kitchen ranges, clothes dryers, and more.
High-efficiency propane furnaces have an AFUE (Annual Fuel Utilization Efficiency) rating of 96-99%. This means that only 1-4% of the fuel is wasted through exhaust, which can result in lower energy costs.
Propane Applications In Rural Living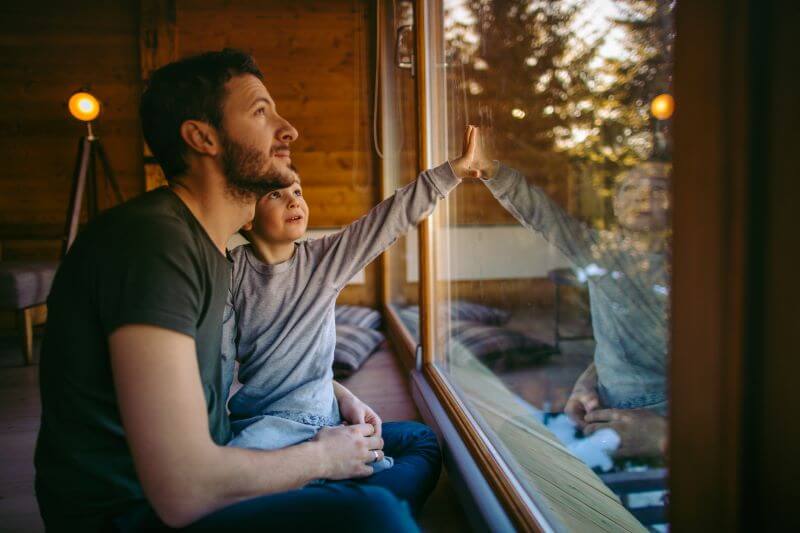 Propane is an excellent choice for rural homes and cottages, as it provides reliable and efficient fuel for cooking, hot water, household heating, and backup power.
Propane Heat
Propane-powered furnaces and boilers can ensure consistent warmth throughout the winter.
Propane Water Heaters
Propane water heaters are a dependable and efficient way to provide hot water on demand. Tankless propane water heaters are very popular because they save space and reduce energy costs.
Propane Stoves
A propane range is considered to be superior to electric stoves because they provide more precise and even heat, making them a perfect option for cooking in rural areas. Propane stoves and ovens can also be used during power outages, providing a reliable cooking option.
Propane Generators
In the event of power outages, propane-powered generators offer a reliable backup power source. They are more cost-effective and efficient than traditional gasoline generators, and can be used for extended periods without needing to be refueled.
Common Questions About Propane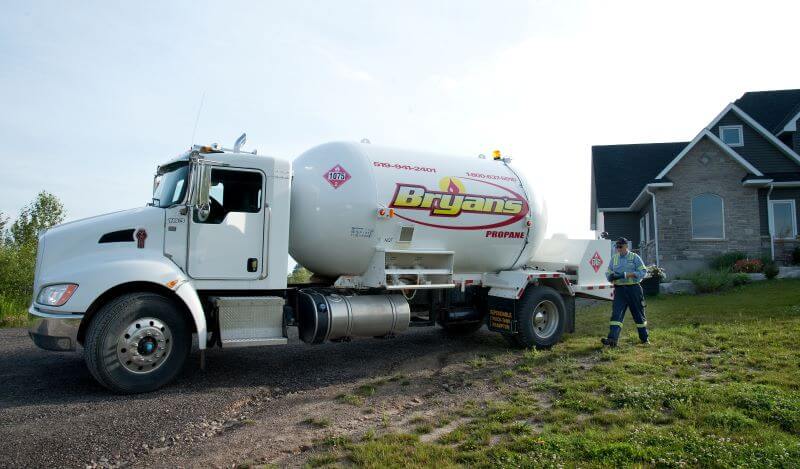 What is the lifespan of a propane tank?
A propane tank has a 25-year life span. The tank will be visually inspected at the time of each fill, and a gas check will be performed every 10 years by a licensed technician.
How do I maintain my propane tank?
Propane tanks require very little maintenance. Best practices include keeping the tank clear of debris and other materials, and avoiding having the tank installed in an area of your property that collects water.
How often do I need to refill my propane tank?
The frequency of refilling a propane tank depends on the size of the tank, and the amount of propane being used by the equipment and appliances in the house. A house will generally have increased consumption in colder months due to the production of heat. Bryan's Fuel will watch your propane usage with a satellite tank monitor, and arrange your tank fill-up for a worry-free delivery schedule.
Why is a "FULL" propane tank only 80%?
A tank can only be filled to a maximum of 80% to ensure the propane has enough room to expand when it's warm outside.
Can propane tanks be installed in remote locations?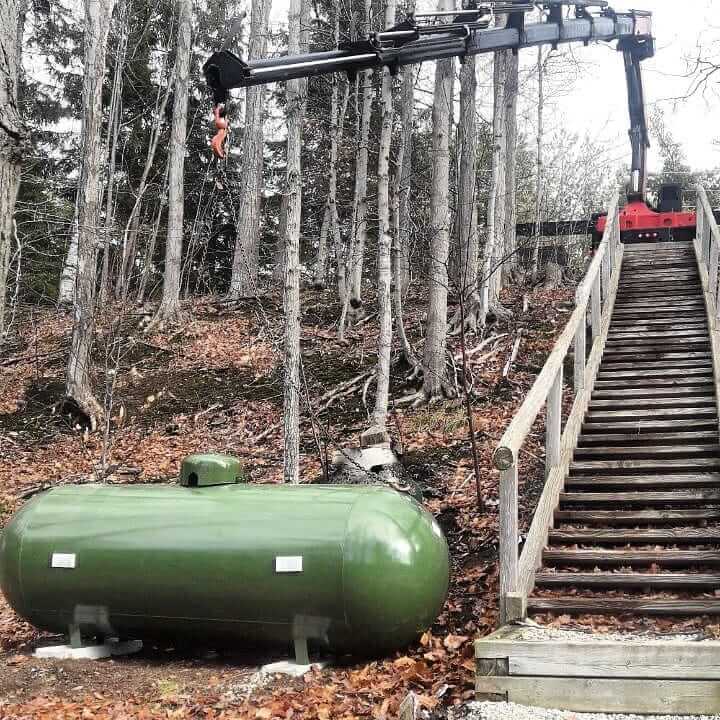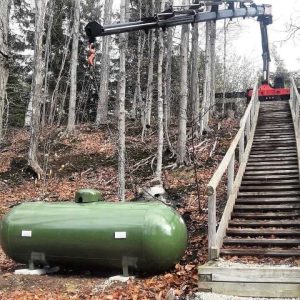 While propane tank installation in remote locations may present some challenges, there are methods available that allow us to place a new tank in the most convenient and manageable location on your rural property.
Choosing The Right Propane Supplier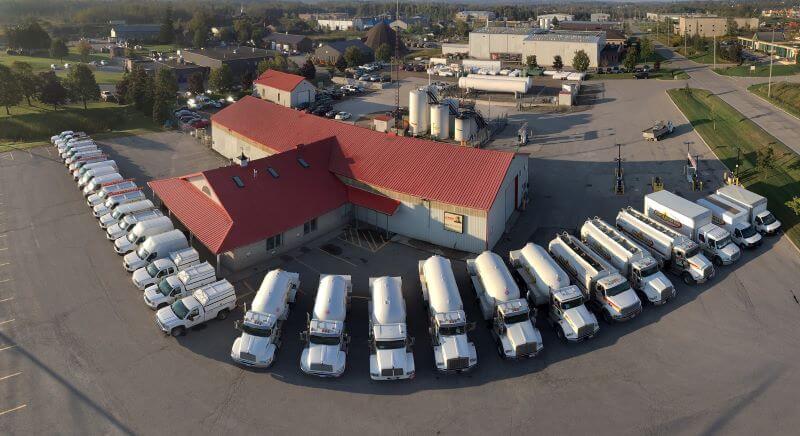 When choosing a propane supplier, it is important to consider reputation, customer service, and reliability.
Understanding propane system options, fuel pricing, and how to schedule your deliveries is also important. At Bryan's Fuel, we offer online account management and payment options to make it easy for our customers. If you're interested in using propane for your rural home or cottage in the Orangeville, Shelburne, or Collingwood region, we'd be happy to help! Contact us today for a custom quote.