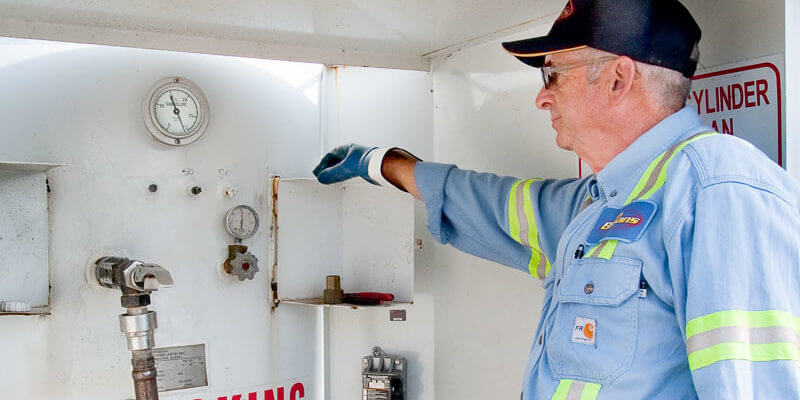 Propane gas is a clean, convenient, and reliable method of heating for residential, agricultural, and commercial buildings. Other applications include stove top cooking, hot water heating, clothes drying and barbecuing.
Bryan's Fuel features propane equipment in a variety of tank sizes with installation options customized to suit your unique situation. As always, you know the Bryan's Fuel team is here to help you, whether you are planning a new propane heating system, expanding an existing one, or need emergency service on your propane equipment.
As your supplier Bryan's Fuel is committed to providing you the highest degree of efficiency, safety and customer satisfaction in the propane industry. With a simplified pricing schedule adjusted daily to reflect wholesale market price changes, you can rest assured we are consistently the lowest cost propane supplier in the area.
Benefits of Propane
Clean
Economical
Produced in Canada
Portable
Safe
Propane Safety
Canadian Propane Association Propane Safety Guide
Residential Propane Safety
Treat Propane Leaks Seriously. If you suspect a propane gas leak:
Remove or extinguish potential sources of ignition. Do not light matches, candles, cigarettes or create any other source of ignition, including using electrical switches, flashlights, phones, cell phones or electrical appliances.
Open all doors and windows to ventilate the area. Close all propane cylinder or tank supply valves using the instructions provided by your propane supplier, and turn off all gas appliances.
Get everyone out of the building immediately.
Go to a nearby phone and dial your propane supplier or 911. Do not re-enter the area until it is has been checked and verified as safe by a qualified propane service technician or emergency responder.
After the area has been deemed safe, a qualified propane service technician must repair the leak, turn on the propane, check all the propane appliances, and re-light the pilots on the appliances.
Double Check Before You Dig
If underground propane supply lines bring propane to your house, you need to be aware of the location of these underground supply lines before any digging or excavating occurs. Contact your propane supplier before beginning an addition to your home, doing major landscaping, or installing fence posts. Your propane supplier will be able to assist you by locating underground propane supply lines.
Home Propane Safety
The following safety tips outline some important procedures and precautions for the proper use and storage of propane gas:
Do not allow children to climb on propane storage tanks. Children should be kept away from propane shut-off valves, propane supply lines and propane appliances.
Ensure that combustible materials are kept away from BBQ's, furnaces, space heaters and fireplaces.
Use caution when in the vicinity of the valves on your propane tank or cylinder. Should liquid propane escape from its' storage container it may cause severe frostbite if it comes in contact with your skin or eyes.
Do not store or use flammable liquids (e.g., gasoline, solvents, kerosene, camp fuel, butane, gasoline, diesel fuel, alcohol, and lamp oil) in or around propane appliances.
Ensure that you know the proper procedures for turning the propane supply on and off. You must also be aware of what to do in event of an emergency involving propane fuel. Contact your propane supplier for instructions.
Propane can be detected by its strong, distinct smell — like rotten eggs, a skunk, or boiling cabbage. Immediately contact your propane supplier if you detect the odour of propane. If the odour of your propane gas is weak, or your sense of smell is impaired, call your propane supplier should you suspect that a propane leak exists.
Propane is heavier than air, so when a leak occurs, be aware that propane gas will gather in low-lying areas like near the floor, basements, crawl spaces, ditches, etc. creating a fire or explosion hazard.
Consult a Qualified Propane Service Technician
Have a qualified propane service technician inspect, service, clean, and test your fuel-burning appliances and controls, annually.
Contact Bryan's Fuel today for a Consultation
Respect Basic Propane Safety Considerations
Cylinders must be transported, used and stored in the position for which they were designed. This will enable the pressure relief valve to activate correctly if the cylinder has been exposed to heat or overfilled.
Store cylinders outdoors, away sources of ignition or heat and in a secure, well-ventilated area.
Do not smoke while using or handling a propane cylinder.
Never modify or repair cylinder or tank parts, including connectors,
Prior to storing or transporting disconnected cylinders, cap all cylinder outlets.
Propane Pricing
2019 Propane Generator Tank Program